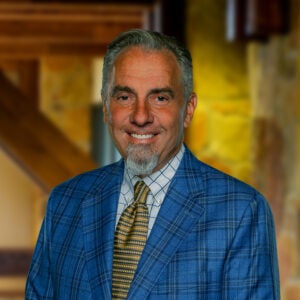 Back to Ministry relations
Steve Purdum is the Chief Development Officer where he oversees Ministry Relations for First Liberty Institute. Our Ministry Relations team strives to cultivate life time partnerships with those who share a passion for all that we do.
Steve Joined First Liberty in 2014 after serving as Guest Services Pastor and Executive Pastor of a large church in Plano, TX.
Before that, Steve was in sales for over 23 years after attending Oklahoma State University. Starting out as a manufacturer's representative for a regional sales agency in the southwest then advancing to management then ownership. The agency had offices in Dallas, Houston and later expanded to Kansas City. He also owned two regional wholesale shipping warehouses located in Dallas and Houston.
Steve received numerous industry awards for his accomplishments throughout his years in the automotive aftermarket industry.
Much of Steve's career he served in various ministry leadership roles at his local church before transitioning to full time ministry work in 2006.
The blend of sales and a ministry background was a perfect combination of experience to step into his role on the ministry relations team in 2014.
First Liberty's model of development is more of a ministry to our partners. As such, we define the team as Ministry Relations rather than what many organizations call development.
Steve is a member of the Association of Fundraising Professionals.
Publications
News
Representative Matters
Request Steve to Speak
Thank you! Our team will evaluate your request.
First in the fight for your religious liberty.
Religious liberty is our first liberty as Americans. At First Liberty Institute, we know that it can be confusing when you face a challenge to your religious liberty. No one should have to face it alone.
That's where First Liberty can help. We have decades of experience making sure people just like you get the help they deserve. We are a nationwide, religious liberty law firm with an unmatched record of defending religious liberty—in our schools, for our houses of worship, in the military, and throughout the public arena.
If you believe your religious liberty has been threatened or violated, please fill out the form below so we can evaluate your case.
Our legal intake team personally evaluates each request for legal help and may follow up with you over the phone for more information about your specific situation. We cannot guarantee that we will be able to take every case, but if we do, our legal services are provided at no charge to you (pro bono).
Thank you! Our legal team will evaluate your request.