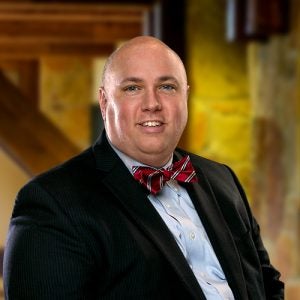 Back to
Trey Dimsdale leads First Liberty's legacy planning and foundation outreach initiatives. Prior to joining the team at FLI he was the director of program outreach at the Acton Institute for the Study of Religion and Liberty where he directed many of the internationally-ranked think tank's most notable initiatives. Trey has spoken in a variety of settings including the European Parliament, major international conferences, and academic colloquia on issues as diverse as human rights, the social good of religion, and the role of the church in combating poverty. His writing has appeared in the Washington Times, Religion and Liberty Transatlantic, and Public Discourse.
Trey completed his undergraduate education in history and political science at the University of Missouri-Kansas City and in 2006 he completed a law degree there, as well. He also holds a master's degree in theological ethics and is currently pursuing a PhD from Southwestern Baptist Theological Seminary. He was a 2019 National Review Institute Regional Fellow and is a member of the Philadelphia Society, the Federalist Society, and the State Bar of Texas. He also serves as a research fellow at the Ethics and Religious Liberty Commission of the Southern Baptist Convention and an Associate Fellow at the Centre for Enterprise, Markets, and Ethics in Oxford, United Kingdom.
Publications
News
Representative Matters
Request Trey to Speak
Thank you! Our team will evaluate your request.
First in the fight for your religious liberty.
Religious liberty is our first liberty as Americans. At First Liberty Institute, we know that it can be confusing when you face a challenge to your religious liberty. No one should have to face it alone.
That's where First Liberty can help. We have decades of experience making sure people just like you get the help they deserve. We are a nationwide, religious liberty law firm with an unmatched record of defending religious liberty—in our schools, for our houses of worship, in the military, and throughout the public arena.
If you believe your religious liberty has been threatened or violated, please fill out the form below so we can evaluate your case.
Our legal intake team personally evaluates each request for legal help and may follow up with you over the phone for more information about your specific situation. We cannot guarantee that we will be able to take every case, but if we do, our legal services are provided at no charge to you (pro bono).
Thank you! Our legal team will evaluate your request.