The Ideal Job
Gerald Groff thought he had found the perfect job.  It would give him the opportunity to serve his community, it would be rewarding, and it would allow him to honor the Lord's Day.
Becoming a full-time mail carrier for the United States Postal Service was that ideal job.  But just as Gerald was about to realize his dream, he was forced to give it all up.   In a permanent, full-time carrier role, Gerald would have the stability of delivering to the same route each day, benefits, including vacation days, and most importantly to him – all Sunday's off.  When the USPS began to require Sunday delivery for Amazon, right when he was on the verge of his ideal job, Gerald changed Post Offices, surrendered all his seniority, and sacrificed his hope to be a full-time carrier because he was unwilling to deny the Lord by working on even one Sunday.
Gerald was so close to his dream job where he would be able to honor the Sabbath permanently in a full-time position that was not expected to work Sunday Amazon deliveries.  But to reach his job goals meant he had to make a decision – violate the Lord's Day to get his full-time employment wish or to honor God and trust Him with the outcome.
He chose to trust God.
Sunday Delivery
Gerald began working for the USPS in 2012 because he could honor the Lord's Day while enjoying a good and rewarding career.  As a substitute (part-time) mail carrier in his family's native Lancaster County, Pennsylvania – an area steeped in religious tradition – Gerald delivered mail to any route that was requested, worked any shift that was offered, including many Saturdays and holidays, to reach his goal of becoming a full-time mail carrier. Some days he delivered mail to as many as 700 homes in his rugged, rural community.
When the Post Office contracted with Amazon to deliver packages seven days a week, it gave no choice to its employees. Gerald did all he could to accommodate the Post Office, including covering extra duties and routes so his co-workers could have easier Saturdays and holidays off.  All he asked in return was that the Post Office accommodate his deeply held belief that he should honor the Lord's Day. He delivered to some of the most difficult routes in even the worst weather – usually using his personal vehicle – often including extra work on Saturdays and every holiday, to show his willingness to accommodate both the Post Office and his co-workers.
At first, Gerald's supervisor accommodated his commitment to honor the Lord's Day.
When that accommodation ended suddenly, Gerald chose to transfer to a new post office that didn't require Amazon delivery at that point, which meant sacrificing all his seniority on his path to becoming a full-time carrier. But then that new post office also began to require Sunday delivery. For missing Sundays to honor the Lord's Day, the USPS then subjected Gerald to eight separate pre-disciplinary reviews, each one requiring him to drive out of his way to the hub post office, adding extra driving time to his day while he was still required to fulfill his obligation to deliver his assigned route.  He received a "Letter of Warning," and two separate Suspensions (totaling 21 days) over the course of two years, all while working daily under the looming threat of losing his job each time that he went to work.
Dream Sacrificed
It would have been a temptation for Gerald to simply work a Sunday here or there to maintain his seniority so that he could eventually become full-time and have every Sunday off to honor the Lord's Day, but to Gerald that meant violating both his conscience and God's law, something he just could not do. No American should be forced to choose between their livelihood and their faith.
During that time, Gerald was also subjected to harsh & unfair treatment, mocked by his supervisor and docked pay without justification.  After two years of progressive discipline, hostility from supervisors, and not knowing if any day was the day he would be terminated, Gerald resigned on January 18, 2019. Just like Gerald stepped in to help other employees when they needed it, most Americans are eager to help each other. Gerald did his best to accommodate the USPS and sought to serve his co-workers, but the USPS refused to accommodate him.
The district court sided with the USPS, concluding that a reasonable accommodation need not eliminate the conflict between work and religion and that accommodating Groff would pose an undue hardship on USPS.
On appeal, the Third Circuit affirmed, concluding that while the USPS failed to offer Groff an accommodation, an exemption from Sunday deliveries would cause undue hardship to his employer.
The Supreme Court of the United States heard oral argument in the case on April 18, 2023.  A decision is anticipated in June.
News Release
For Immediate Release: 2.21.23
Contact: Peyton Luke, media@firstliberty.org
Direct: 972-941-4453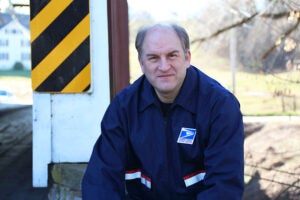 (Photo credit: First Liberty Institute. May be republished. Access full resolution photos at FaithfulCarrier.com under "Photos and Videos.") 
Faithful Carrier Asks SCOTUS to Honor the Lord's Day
Attorneys for former Lancaster County postal worker ask high court to restore religious liberty in the workplace
---
WASHINGTON, DC—First Liberty Institute, Baker Botts, LLP, Church State Council, and Independence Law Center filed their opening brief at the U.S. Supreme Court on behalf of former mail carrier Gerald Groff today.  The brief asks the Justices to restore the important protections for religious employees to what Congress intended before the courts watered down Title VII of the Civil Rights Act.
A copy of the brief is available at FaithfulCarrier.com.  Argument in Groff v. DeJoy is set for April 18, 2023.
"The U.S. Supreme Court has the opportunity to restore religious liberty in the workplace," said Kelly J. Shackelford, President, CEO, and Chief Counsel to First Liberty. "Our nation has a long history of protecting its employees from being treated unfairly at work just because of their faith.  This is an important case for all Americans."
"Justice Thurgood Marshall once said that a 'society that truly values religious pluralism cannot compel adherents of minority religions to make the cruel choice of surrendering their religion or their job,'" Aaron Streett of Baker Botts said.  "Making sure everyone is treated fairly at work promotes our nation's historic commitment to religious diversity."
"Courts have interpreted Title VII so restrictively that employers need not grant even the most simple accommodations to religious observers to enable them to follow their faith," observed Alan Reinach of Church State Council. "Restoring Title VII's focus of protecting religious employees motivates everyone from the boardroom to the mail room to find a solution that works for the business as a whole."
"No employee should be forced to choose between their faith and their job," noted Randall Wenger, COO & Chief Counsel to Independence Law Center. "Religious accommodations should be treated in the same way we accommodate the workplace needs of any employee."
Case Background:
Born and raised in the heart of Amish and Mennonite country in Lancaster County, Pennsylvania, Gerald Groff applied to work for the United States Postal Service (USPS) in 2012.  He thought working for USPS would allow him to honor the Lord's Day each week by resting, worshipping with his church family, and serving his family and community.
But, in 2013, Amazon.com contracted USPS to provide Sunday delivery.  Initially, USPS accommodated Groff, but soon required him to work Sundays or USPS would make an example out of him.  Even though he covered his coworkers' shifts every day (including holidays) except the Lord's Day, over the course of almost two years, USPS subjected Groff to eight (8) pre-disciplinary interviews, a letter of warning, and two (2) suspensions while mocking his appearance, forcing him to carry more mail than other carriers, docking his pay without justification, and refusing his requests to take unpaid leave.
As a result of these hostile working conditions, Groff suffered hair loss, chronic insomnia, weight gain, anxiety, and more.  He resigned in January 2019 knowing his termination was imminent and initiated this litigation.
Groff's attorneys appeal a decision of the U.S. Court of Appeals for the Third Circuit that affirmed a decision by a lower court that concluded that USPS need not accommodate Groff if doing so would harm employee morale.  Dissenting from that opinion, Judge Thomas Hardiman warned that, unless overturned, the Third Circuit's decision offers "a heckler's veto by disgruntled employees" to any employer who would otherwise accommodate the religious beliefs of their employees.
Groff v. DeJoy presents the Justices with the opportunity to re-evaluate the "de minimis" standard first expressed in Trans World Airlines, Inc. v. Hardison (1977) and reconfirm the language of Title VII, as passed by Congress, requiring an employer to accommodate an employee's religion unless it would cause an "undue hardship on the conduct of the employer's business."
###
About First Liberty Institute
First Liberty Institute is a non-profit public interest law firm and the largest legal organization in the nation dedicated exclusively to defending religious freedom for all Americans. 
To arrange an interview, contact Peyton Luke at media@firstliberty.org or by calling 972-941-4453.
---