by Jorge Gomez • 7 min read
The Biden administration appears to be testing the idea of putting together a list of Americans who have religious objections to the COVID-19 vaccine mandate.
Recently, the Court Services and Offender Supervision Agency for the District of Columbia announced a new records system that will store the names and "personal religious information" of all employees who make "religious accommodation requests for religious exception from the federally mandated vaccination requirement."
But this is only one agency implementing this type of tracking system. According to the Heritage Foundation, "there are at least 19 total federal agencies—including five cabinet level agencies—that have created or proposed to create these tracking lists for religious-exemption requests from their employees."
Make no mistake, these are alarming actions. These policies could negatively impact religious freedom for people of all faiths across the country. It's incredibly dangerous (indeed, dystopian) for the government to have a list of religious citizens at its disposal.
It's helpful here to heed the lessons of history. Tyranny and repression aren't too far away when the state begins to actively track the faithful. Religious liberty is greatly endangered once the state monitors religious citizens in order to get them to conform to the government's sanctioned viewpoint.
Just last year, China set up a national database containing information on religious personnel, including rewards and/or punishments they've received, and details on whether their ministry has been revoked.
American government agencies taking similar actions to that of a communist dictatorship isn't exactly the best policy to promote liberty. Yet, that's what appears to be happening under the current administration.
These "religious blacklists" are indeed troubling, but it isn't surprising. Below, we've compiled a list of our own—a summary of multiple actions by the Biden administration showing it is no ally of religious freedom.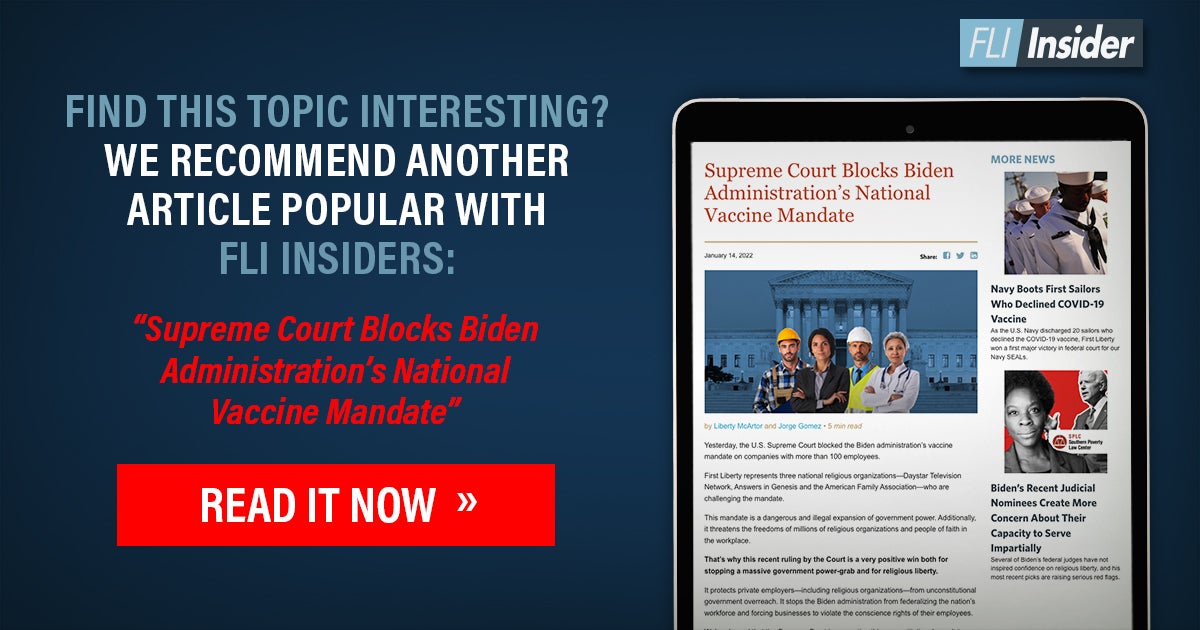 A Long List of Alarming Policies
Among the most visible attacks on religious freedom is the OSHA vaccine mandate on companies with more than 100 employees. This dangerous and illegal expansion of government power would federalize the nation's workforce and force employers to violate the conscience rights of their employees. It threatens the freedoms of faith-based organizations and employers, as well as millions of people of faith in the workplace.
But it's not just religious workers who are being told to choose between their faith or their jobs.
The military vaccine mandate is another affront to the Constitution and religious freedom. Service members who request a religious accommodation—a right that's protected by federal law and military regulations—face the threat of losing their careers. They're essentially being forced to choose between their faith or serving their country. They should never have to make that choice.
To date, the U.S. Navy has not approved a single religious accommodation request. And to add insult to injury, it seems the Navy isn't giving religious service members the proper legal consideration required by law. Documents published in recent weeks show what appears to be a generic form letter denying religious accommodation requests across the board.
The good news is that First Liberty is fighting back against these unconstitutional mandates and restoring religious freedom.
Just a few weeks ago, we secured the first major victory for our 35 U.S. Navy SEAL clients who are challenging the DoD mandate. In a strongly worded order, a federal district court stopped the DoD from punishing our clients while the case moves forward.
Vaccine mandates, however, are just one battlefront. We cannot ignore other areas where the Biden administration has pursued policies harmful to religious liberty.
Two federal agencies recently rolled back key religious freedom provisions. These were federal regulations adopted by the previous administration to prevent religious discrimination and ensure equal treatment of faith-based organizations:
The Department of Labor rescinded a rule that broadened religious exemptions and helped prevent discrimination against religious organizations contracting with the federal government.
The Department of Health and Human Services, headed by Secretary Xavier Becerra, repealed important initiatives that helped protect the rights of conscience and religious freedom.
When it comes to federal judges, several Biden nominees so far have not inspired confidence on religious liberty. Their records show they've worked against the protection of this fundamental freedom in the past.
His most recent picks are also raising red flags. His selection to fill a vacancy on the Eleventh Circuit—Nancy Abudu—currently works for the Southern Poverty Law Center, a radical organization famous for labeling political opponents as "hate groups" or "extremists."
If these actions weren't alarming enough, let's not forget President Biden's adamant support of the so-called "Equality" Act, a dangerous bill that would gut the landmark Religious Freedom Restoration Act and do irreparable harm to religious liberty.
Whether it's imposing vaccine mandate on employers and on military service members, nominating liberal, activist judges, repealing important federal policies, or tracking religious objectors, the Biden administration continues to show a particular disdain for the Constitution and the sincerely held religious beliefs of millions of Americans.
While the Biden administration purports to "Build Back Better," putting religious citizens in the crosshairs and undermining their constitutional freedoms is not going to help our nation flourish. On the contrary, it will only tear down the pillars of our country and lead America further down the road to tyranny.