by Jorge Gomez • 7 min read
This week, the Senate Judiciary Committee concluded hearings for Judge Ketanji Brown Jackson, President Biden's nominee to replace Justice Stephen Breyer on the U.S. Supreme Court.
First Liberty attorney Keisha Russell participated in the hearings as an expert witness. She explained why it's so important for a Supreme Court justice to uphold the rule of law and interpret the Constitution according to its original meaning, especially in this moment in history when Americans face unprecedented attacks on their freedoms.
In her testimony, Keisha also warned about the dangers of judicial activism. She brought attention to several concerning parts of Judge Jackson's record indicating she holds a radical judicial philosophy.
Recent news reports point to Judge Jackson championing advocates of Critical Race Theory (CRT) in lectures and speeches. CRT is a controversial ideology that rewrites American history and teaches racism is not merely the product of individual prejudice, but something embedded in our country's legal systems and policies.
You can watch Keisha's testimony below, where she emphasizes that judges must adhere to principle—not personal preference, politics, or ideology—when issuing decisions affecting religious liberty and other core freedoms:
First Liberty also provided members of the Committee with in-depth research and analysis that revealed multiple red flags in her record. Judge Jackson's positions and judicial philosophy are far outside the mainstream. They create serious concerns about how she would treat our constitutional rights—including religious freedom—if confirmed to the nation's highest court.
The Democrat-led Senate Judiciary Committee (SJC) is expected to move Judge Jackson's nomination forward to the full Senate for a final vote. First Liberty will keep a close eye on the confirmation process.
For now, let's turn our attention to a recent wave of confirmations to the lower federal courts and where the President's record stands on judges.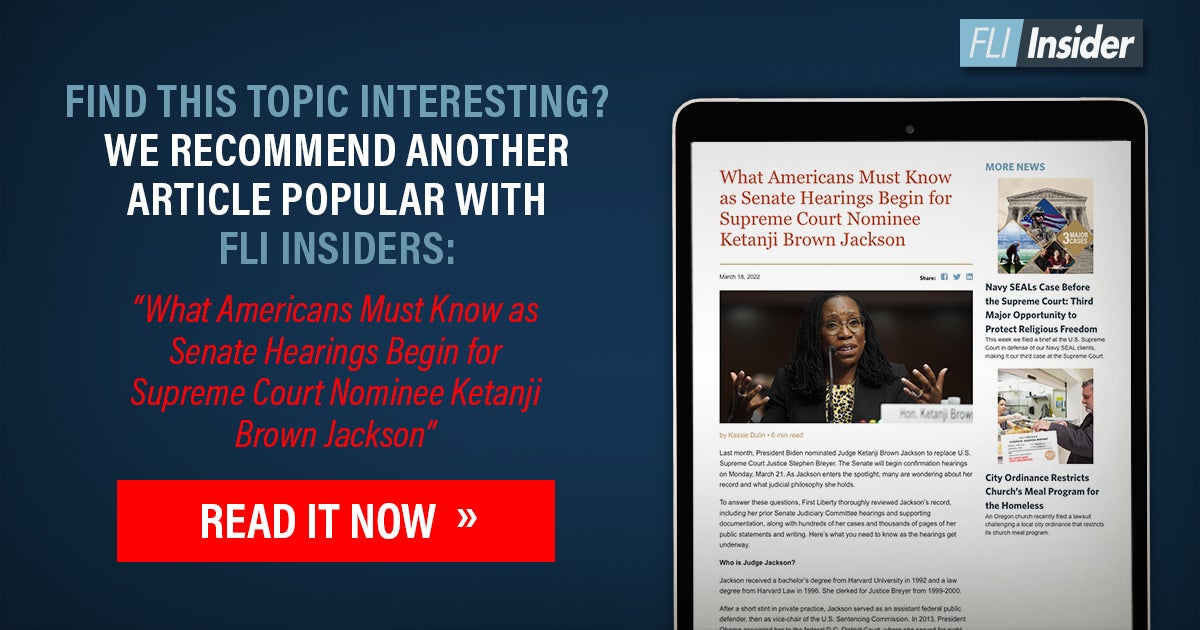 50+ Judges Confirmed Under Biden Administration
The Senate recently confirmed 10 judges to the federal district courts, the first wave of confirmations in over a month. This brings the total number confirmed under the Biden administration to 56.
At this point in his presidency, President Biden continues to outpace his recent predecessors. No other President has had that many total judges confirmed since Ronald Reagan. This includes 15 judges confirmed to the circuit courts of appeal—the most circuit court judges confirmed in 40 years.
More nominees are also in the pipeline. Approximately a dozen are waiting for a Senate floor vote. Another six are waiting for a committee vote and eight are waiting for a hearing.
Let's put these figures in perspective. The 56 Biden judges confirmed so far comprise only about 6% of the 856 federal district and circuit court judgeships. If the President filled every vacancy, the total number of Biden judges on the federal bench would be slightly more than 130, or about 16% of the judiciary.
By comparison, about 25% of the judiciary is comprised of judges confirmed under Donald Trump. About 36% are judges confirmed under Barack Obama. In other words, even if Biden could fill every open spot on the bench, he still would not affect the composition to the same extent as the previous two presidents.
Nonetheless, the Senate's fast-paced approach is alarming because of the records of the judges being confirmed.
Similar to Judge Jackson, Biden's nominees generally hold radical positions. Many of them have worked against religious liberty. For example, while Judge Jackson has been endorsed by some of the most extremist activist groups in America, several of the President's lower court picks have worked for these organizations—including the discredited Southern Poverty Law Center and the far-Left ACLU. Their previous legal advocacy for these groups suggests they'll operate as liberal activists, not as impartial judges committed to the rule of law and the Constitution.
Whether it's religious freedom or other constitutional liberties, federal judges wield considerable power and influence over the lives of Americans. Indeed, their rulings and decisions are in many cases the difference between living in liberty—or having our God-given rights taken away. Americans cannot afford a Supreme Court justice or federal judges who are enemies of religious freedom.
America needs judges who will rule according to principle—not politics or personal preference. As the President puts forth more nominees, First Liberty will continue to provide a trustworthy examination of their records.