They were forced to close their bakery because of their beliefs
Aaron and Melissa Klein were living the American Dream. In 2007, they opened up a family bakery. It was an exciting opportunity to use their creative skills to support their livelihood. They hoped to pass on the business to their children someday.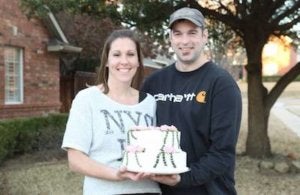 The Kleins are Christians, and they believe what the Bible says about marriage. So, when they were asked to design a cake to celebrate a same-sex wedding, they declined.
Consequently, the State of Oregon fined them $135,000 for discrimination. The Kleins also received hate mail, violent threats, and harassment. They were forced to shut down their bakery as a result. Their livelihood and dream were crushed.
Americans should not be punished or penalized for standing up for what they believe in. The First Amendment protects all Americans religious liberty.
So now, thanks to the support of friends like you, First Liberty is taking the Kleins' case to the Supreme Court.