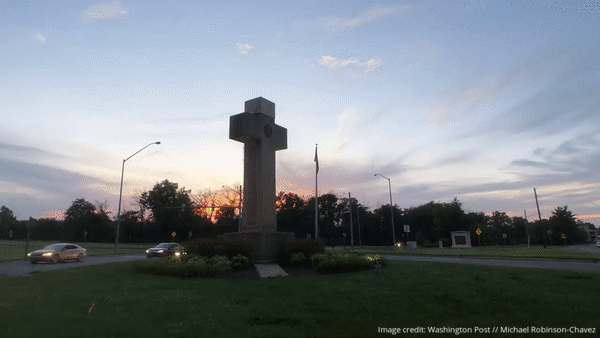 WASHINGTON POST  |  The stories of the old warriors behind the Supreme Court challenge over Maryland's Peace Cross.
A flag covered a bronze tablet, and a Gold Star mother who had lost a son to the Great War stood ready.
Silhouetted against the sky of a 1925 July day at the gateway of a new public highway outside Washington was a 40-foot-tall monument of rose-colored granite and concrete shaped like a cross.
At a cue, the mother pulled away the flag at the monument's base, revealing the names of 49 local men who had died a few years earlier during World War I, permanently and forever recalled at the Peace Cross in Bladensburg, Md.
---
---
The names are still there on the giant war memorial in a traffic circle, passed by thousands of commuters a day outside the nation's capital. But the men's stories have been all but lost to history. And the permanent and forever aspect of the cross-shaped memorial is in doubt, just as the United States marks the 100th anniversary of the closing months of World War I.
As soon as Monday, the U.S. Supreme Court could decide whether to step into a legal skirmish over the future of the memorial.
A federal appeals court ruling on a challenge brought by atheists has said the Peace Cross is an unconstitutional government endorsement of religion and told a state commission that maintains the cross on public land to remove it, reshape or reassign its ownership.