Catch up on the latest and most important religion freedom headlines from around the web.
---
The Government Needs to Respect the Consciences of Faith-Based Health Care Providers
First Liberty attorney Kayla Toney wrote an op-ed in The Washington Times discussing a new regulation from the U.S. Department of Health and Human Services (HHS) that would force religious health-care providers to violate their deeply-held beliefs. Toney writes:
"The proposed rule treats religious providers unfairly by allowing doctors to object to sex-obscuring procedures for secular reasons but not religious reasons. This violates the free exercise clause of the First Amendment…If HHS enacts this rule, it will attack members of many faith groups, including Christians, Buddhists, Muslims and members of the Orthodox Jewish community."
First Liberty recently submitted a public comment to HHS expressing our opposition to the proposed rule. We argued that religious healthcare providers and institutions will continue to be targeted, sued, and eventually forced out of the healthcare field if federal regulations do not permit them to follow their consciences.
---
First Liberty Files Letter Against Sen. Warren Over Heated Rhetoric Towards Pregnancy Centers
Fox News reports on First Liberty's recent letter to Sen. Elizabeth Warren of Massachusetts expressing concern about her rhetoric against life-affirming pregnancy centers, after several have been targeted with violent attacks.
Our attorneys also sent a letter to state Attorney General Maura Healey, asking her to enforce the law and ensure that life-affirming pregnancy resource centers are protected from vandalism and threats.
---
Oklahoma Edges Out Texas in Protecting Religious Liberty 
First Liberty Executive General Counsel, Hiram Sasser, wrote an op-ed in Tulsa World discussing the recent publication of the Religious Liberty in the States index, a project of First Liberty's Center for Religion, Culture and Democracy. This first-of-its-kind empirical study measures and ranks legal safeguards for religious liberty across the entire United States.
Sasser writes:
"A new ranking of religious liberty across the country finds Oklahoma in the top third of all states, placing 16th in the nation…Thanks to this new ranking system, states can now see how they stack up against their neighbors and against other states all over the country. While Oklahoma has done well relative to many of its peers, there remains great room for improvement." 
Be sure to visit the Religious Liberty in the States website for an interactive national map, details on how each state scores, access to the full report and more.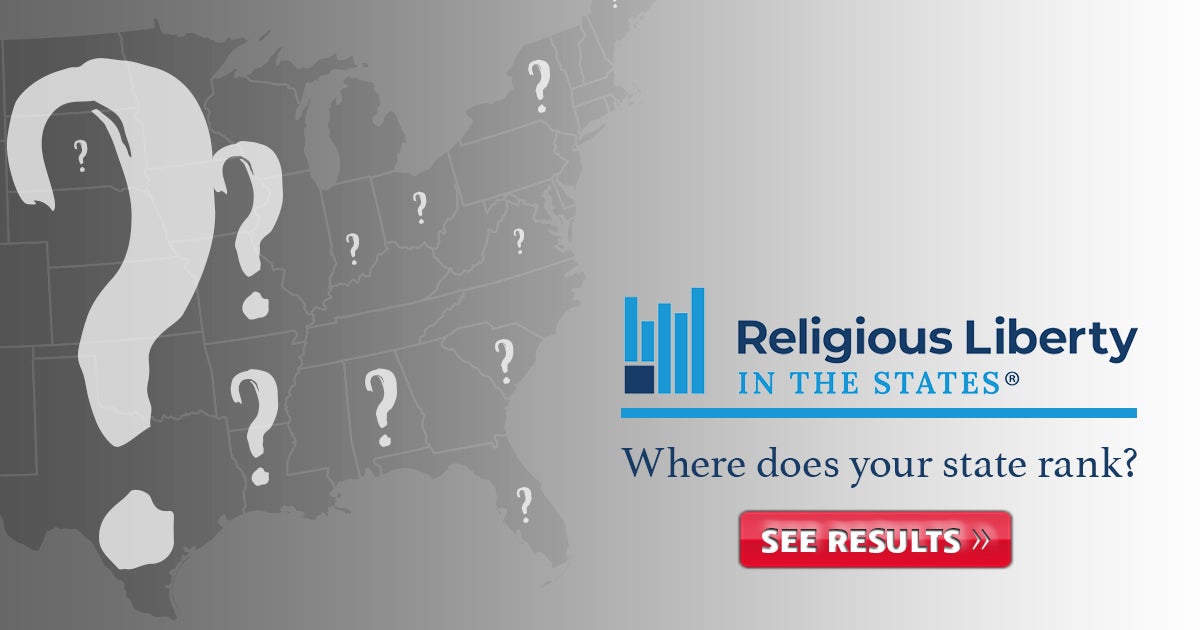 Members Of Congress Urge DOJ to Investigate Cyberattacks on Pro-Life Websites
The Christian Post reports that 13 members of the House Oversight Committee recently wrote a letter to U.S. Attorney General Merrick Garland expressing concern about "cyberattacks on Christian websites and charitable donation portals carried out due to their support of conservative values and causes." They urge the Justice Department to investigate cyberattacks on pro-life websites as the national discourse surrounding the issue of abortion grows increasingly heated.
---
Supreme Court's New Term Packed with Cases on Religious Liberty & Other Major Issues 
The Washington Times reports on the various cases that the U.S. Supreme Court will be hearing this term, which began on Monday, Oct. 3rd. Already, the Court has agreed to hear arguments in cases involving religious liberty, the First Amendment, race and representation as well as voting and elections.

---
Army Penalizing Soldiers Seeking Religious Accommodation to Vax Mandate: 'Technique of Coercion'
The U.S. Army is subjecting unvaccinated soldiers to punishments, including prohibiting off-base travel, halting promotions and enforcing involuntary terminations from the service. Some active-duty service members claim this is a strategy to pressure them to abandon their deeply held religious beliefs, according to Fox News.
First Liberty continues to fight on behalf of thousands of service members whose requests have been denied. Learn more about our U.S. Navy SEALs and Air Force cases.
---
Alaska Joins Lawsuit Questioning Military Vaccine Policy
Alaska has signed onto a high-profile class-action lawsuit as a friend of the court, challenging the U.S. Air Force COVID-19 vaccine requirement, according to Newsminer. Alaska joins 20 other states questioning the Air Force's refusal to honor religious accommodations, arguing that service members should enjoy the same rights to religious liberty as fellow citizens.
A coalition of national leaders—including 22 state attorneys general and 27 members of Congress—also recently filed legal briefs at a federal appeals court supporting First Liberty's U.S. Navy clients and thousands of service members seeking legal, religious accommodations.
---
Federal Court Rules for Catholic School That Fired Teacher in Same-Sex Union
A federal district court in Indiana recently ruled in favor of a Catholic private school that fired a teacher who had entered into a same-sex union in violation of her contract, National Review reports. The ruling held that the Archdiocese of Indianapolis and its schools can select, retain or dismiss faculty according to their religious standards.