by Mike Berry, General Counsel • 5 min read
On September 1, the U.S. Department of Defense (DOD) revised DOD Instruction 1300.17. In so doing, the DOD issued new guidance that provides some of the strongest religious liberty protections for military service members in history.
Among some of its changes, the new regulation applies the Religious Freedom Restoration Act (RFRA) to the military. It also reflects the principles set forth by the Commander-in-Chief, whose 2017 Executive Order Promoting Free Speech and Religious Liberty made it clear that all executive branch agencies (including the DOD) must protect religious freedom as a top priority.
We commend the DOD for this much-needed action to help steer the ship in a positive direction. But this doesn't mean we're in calm waters or that the fight for religious freedom in the military is finished.
After big victories are achieved, those who zealously oppose religious expression in our military are notorious for doubling down with more brazen and personal attacks. As Sir Winston Churchill famously said after a victory over the Germans in North Africa: "This is not the end. It is not even the beginning of the end. But it is, perhaps, the end of the beginning."
---
Be A Force Multiplier!
Hostility to religious freedom in our military is at an all-time high.
Let's go All In together to defend the First Freedom of our service members.
---
Most commanders and those they lead in the U.S. military are honorable men and women who realize that service members do not have to leave their faith at the door when they put on their uniform.
But like any other government agency, the DOD is a bureaucracy susceptible to the complaints of a few and the hostility often comes from within.
A few weeks ago, US Navy officials had to answer difficult questions after they decided to cancel contracts with civilian Catholic priests serving as chaplains at naval bases in order to save pennies on the dollar.
Not long before that, the US Navy also issued an order banning troops from attending indoor religious services.  First Liberty was flooded with calls for help from service members, including USAF Major Shultz who leads worship at his church, yet was unable to do so because of the Navy's order.
Our legal team quickly intervened by notifying Navy officials that their actions were unconstitutional, as well as sending a letter to Defense Secretary Mark Esper, urging him to address the religious hostility festering in the military. Thankfully, within a week of our action, the Navy rescinded the ban and allowed service members to attend services.
But this is just the tip of the iceberg.
Anti-religious bias is evident when commanding officers blatantly stop service members from advancing in their military careers, as was the case with Chaplain Assistant and U.S. Army Staff Sergeant Kacie Griffin. Or, when uniformed U.S. Air Force officials assaulted and forcibly removed a decorated veteran (Oscar Rodriguez) from delivering a flag-folding speech at a retirement ceremony—all because he'd be using the word "God" in his speech. Or, when service members with decades of distinguished service (US Army Chaplain Scott Squires and USAF Colonel Leland Bohannon) faced potentially career-ending punishment for their religious convictions.
Deep-state "careerists" have created a cultural divide within the military, believing that the only way you rise to the top is to "go along to get along" and not make waves.
And perpetrating the toxic culture are outside agitators like Mikey Weinstein and his deceptively-named Military Religious Freedom Foundation (MRFF), who's gone on record to say:
 "We [MRFF] are a weapon. We are a militant organization. Our job is to kick a[**], take down names, lay down a withering field of fire, and leave sucking chest wounds . . ."
This diatribe is not surprising coming from someone who expressed admiration for ancient Roman despots who subdued conquered nations by impaling their leaders' heads on spikes. He's publicly stated that his goal is to see 400 convictions by courts-martial for people in the military who dare to live out their faith while in uniform.
Mikey Weinstein, the MRFF, and the deep-state bureaucracy have nothing but contempt for people of faith in the U.S. military. These rogue factions won't stop until they've crushed the longstanding history and protection of religious liberty in our armed forces.
We cannot let our guard down. We need to be more vigilant and more aggressive in our efforts to defend religious freedom than ever before.
Right now, we're counting on Force Multipliers like you to faithfully support First Liberty's defense of service members. Will you go All In by making a financial gift to help deliver more victories for our nation's military heroes?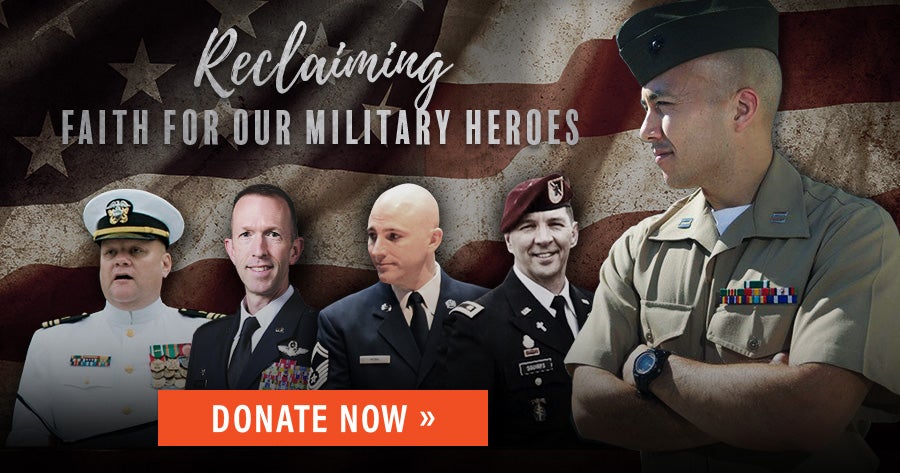 ­